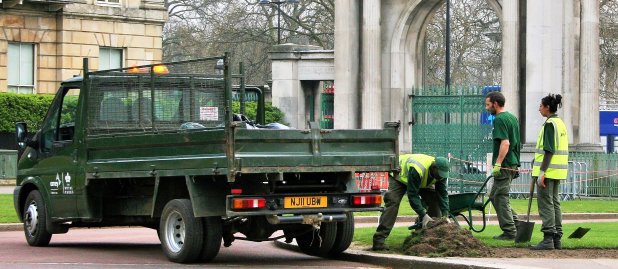 Horticulture & Landscaping Recruitment Agency
Nationwide Landscape Recruitment is a specialist Horticulture & Landscaping Employment Agency supplying Temporary Landscapers to Horticulture & Landscape Contractors throughout the UK.
We have been supplying Temporary Horticulture and Landscaping workers for the past 23 years to Horticulture and Landscaping Companies.
Specialists with the supply of CSCS Accredited Landscapers and Labourers >
Nationwide Landscape Recruitment supply temporary workers to: Landscape Contractors, Gardeners (Commercial & Domestic), Forestry and Arboricultural Contractors, Turfing Contractors, Grounds Maintenance Contractors, Highways Maintenance, Living Roof Contractors, Living Walls Contractors, Naturescaping Contractors, Ecology Contractors and Environmental Remediation Contractors.
Nationwide Landscape Recruitment supplies Temporary Horticulture and Landscaping workers from Wimbledon, London and Gloucester, Gloucestershire. Working with our Recruitment Centres we can supply landscape workers in London, Greater London, the Home Counties, the South Coast, the Midlands and Northern England.
Have an enquiry? Click here TEMPORARY LANDSCAPE WORKERS >
Need Landscapers? Tel: 0845 901 1461
We supply Temporary Landscaping Staff to maintain the Central London Parks, Premier League football clubs, Wembley, Lords and Oval Cricket grounds, International Tour Golf Clubs, National Hunt Race Courses, Chelsea Flower Show and Heritage Gardens. As well as Universities, Schools, Local Authorities, Industrial & Retail Parks, Developers, Country Estates and private homes.
Landscaping - Grounds Maintenance - Grass Cutting - Fencing - Turfing - Sports Surface - Planting - Forestry - Estate Work - Aquatic and River Bank - Green Roofing
The temporary landscapers supplied will be City & Guilds NPTC - LISS/CSCS - ROLO registered and accredited as required and have their own Personal Protective Equipment (PPE). The trades will have the skill level proficient to carry out the work required. Machine Operators will have the appropriate qualification. All Landscaping Plant & Machine Operators supplied are either CPCS - LANTRA - NPORS accredited.
We fully support the British Association of Landscape Industries (BALI) with the Register of Landbase Operatives (ROLO) and the Landbased Industry Skills Scheme (LISS) in conjunction with the Construction Safety Certificate Scheme (CSCS)
Please contact us for an accurate quote for temporary horticulture & landscaping staff based on location, skill level and availability. We can also provide you with fixed term prices for new projects and tender applications. We supply the following workers:
Temporary Semi- skilled & Unskilled Labour: Yard Man - Litter Pickers - General Labourer - Experienced Labourer - Landscape Labourer - LISS CSCS Accredited Labourers
Temporary Landscaping and Horticultural workers: Soft Landscapers - Hard Landscapers - Grass Cutters (Strim) - Grass Cutters (Ride On) - Maintenance Gardeners - Senior Gardeners - Nursery Assistants - Tree Planters - Turf Layers Labour - Turf Layers - Chemical Operatives (Sprayer) - Green Keepers/Lawn Maintenance - Grounds Staff - Fence Erectors (Timber) - Fence Erectors (Specialists) - Tree Surgeon - Chain Saw Operatives - Estate Workers
Temporary Living Roof Installation Workers: Green Roof Installers - Installation Labour - Access Equipment Operators - Drainage Board and Gutter Installers - Turf Layers - Site Supervisors
Temporary Aquatic and River Bank Workers: Pond Landscapers - Pond Planters and Maintenance Workers - Willow Hurdle Installation - River Bank and Flood Defence Workers
Temporary Civils Trades supporting the Landscaping Sector: Ground Workers - Pipe Layers - Concrete Workers and Finishers - Commercial Pavers and Slab Layers - Steel Fixers - Nip Hands - Carpenters (Shuttering and Formwork)
Landscaping and Construction Machine Operatives: Dumper Operators - Articulated Dump Truck and Scraper Operators - Dozer and Blade Machine Operators - Turf Maker Operators - Stone Burrier and plough Operators - Trencher/Slitter Operators - Tractor Drivers - 360 Plant Operators - 180 Plant Operators - Loading Shovel Operators - Roller Operators - Rough Terrain Telescopic Forklift Operators - Counter Balance Forklift Operators - Scissor Lift and Cherry Picker Operators - Slinger Signallers(Banksman)
Temporary Support Construction Trades: General/Multi Trade - Bricklayers - Dry Stone Walling - Carpenters - Painters
As a leading UK Employment Agency supplying temporary workers we cover all aspects of the Landscaping sector. If you want a quote for a worker not listed please contact us.
Have an enquiry? Click here TEMPORARY LANDSCAPE WORKERS >
Need Landscapers? Tel: 0845 901 1461
" We are here to assist you on your projects and provide additional horticulture and landscaping workers when you need them." Dean Newbery Recruitment Manager, Nationwide Landscape Recruitment