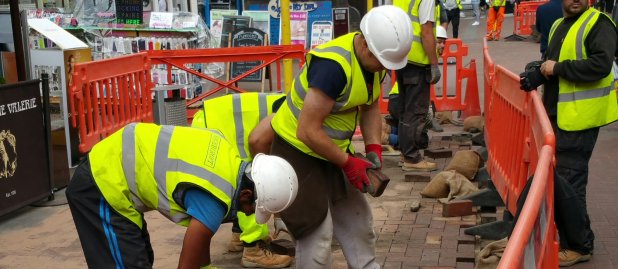 Construction Building Trades and Labour Recruitment
Nationwide Construction Recruitment is a leading UK Construction Employment Agency supplying Temporary Building Trades and Labour from its Nationwide Recruitment Centres located in Towns and Cities throughout the UK.
We are the No 1 "first Call" for Temporary Trades & Labour for 100's of Businesses.
We are a well established Construction Building Trades and Labour Agency, supplying both locally and throughout the UK. We have decades of experience supplying temporary construction building trades and labour to clients from the built environment. We supply 1000's of trades and labourers to clients throughout the year. Our database of workers exceeds 100,000 operatives. Which means we are able to call on workers throughout the UK to fill customer bookings. This makes us popular with our clients forming good long term business relationships.
Nationwide Construction Recruitment has been supporting customer clients through both good and difficult times. Which means we really understand the Building Industry and the importance of getting the right temporary building trades on site and the quality of labour correct, to "Get the job done."
Enquiry Click here CONSTRUCTION TRADES AND LABOUR >
Need Trades and Labour? Tel: 0845 901 1461
We supply temporary workers for all types of Construction Projects: Major Projects - New Build Construction - New Housing - Refurbishment - Maintenance - Restoration - Pre Site Enabling works - Emergency Repair -Temporary Structures
We supply temporary workers to all types of Customers: Housing Developers - Regional Framework Contractors - Building Contractors - Private Builders - Specialist Contractors - Maintenance Contractors. Plus direct to the facilities team at Universities, Schools, Hospitals, Prisons, Hotels, Military Facilities and Private Business.
We supply the following types of temporary workers: Semi-skilled & Unskilled Labour - Attendance & Welfare Labour - Builders Cleaner - General Labourer - Experienced Labourer - Trade Labourers
Temporary Construction Building Trades: General/Multi Trade - Bricklayer - Stonemason - Carpenter - Bench Joiner - Kitchen Fitter - Roofing Carpenter - Roof Tiler - Painter - Decorator - Wallpaper - Plasterer - Fibrous Plasterer - Dry liner - Tape and Jointer - Ceiling Fixer - Metal stud Partitioner - Ceramic Tiler - Stone/Marble Tiler - Carpet fitter - Floor Layer - Sealant Fixer
All trades and labour supplied are CSCS accredited. The operatives attend work with their own PPE and have the skill set to carry out the tasks they are booked out to complete. The operatives supplied can clearly speak and understand the English language.The temporary workers will have site experience and will be managed by Customers line managers as part of the clients work force.
We cover all aspects of the Built environment if you want a quote for a building trade or labour not listed please do not hesitate to contact us. We can provide a QUOTE FOR TEMPORARY CONSTRUCTION TRADES AND LABOUR based on location, skill level, availability and duration of works. We can also provide you with fixed term prices for new projects or tender applications.
"Whatever your needs, we are here to solve your Temporary Construction Trades and Labour requirements. Please contact us if you require assistance or a quote for supply."
Enquiry Trades & Labour Tel: 0845 901 1461 Email: info@nationwide-recruitment.co.uk
List of Towns and Cities we supply temporary workers
We cover all aspects of the Built environment if you want a quote for a temporary building trades or labour not listed please do not hesitate to contact us.
For an enquiry Click here for CONSTRUCTION TRADES AND LABOUR >
Need Trades and Labour? Tel: 0845 901 1461
London - Oxford - Slough - Southampton - Cambridge - Colchester - Norwich - Leicester - Nottingham - Sheffield - Leeds - Hull - Newcastle Upon Tyne - Manchester - Liverpool - Stoke on Trent - Wolverhampton - Worcester - Hereford - Cheltenham - Newport - Swansea - Cardiff - Bristol - Exeter - Plymouth - Bournemouth - Brighton - Dartford - Coventry - Birmingham