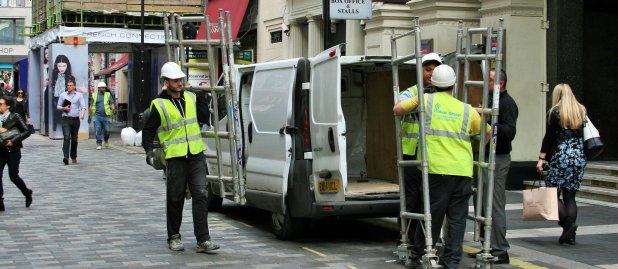 London Labour Only Employment Agency
Labour Force Recruitment is the London Labour Only Employment Agency division of Nationwide Recruitment. Labour Force Recruitment succesfully supplies Temporary Labourers in London and the Greater London Boroughs
The No 1 "first Call" for Temporary Manual Labourers for 100's of London Businesses
Labour Force Recruitment is a specialist London Temporary Labour Only Employment Agency. It is a division of Nationwide Recruitment. It is unique as we can organise and supply any quantity of temporary manual labour at short notice in a City environment.
Contact us if you are looking for Temporary London Labour. We understand that London is open for business 24 hours a day and as a Leading London Employment Agency our service reflects this.
Quote for TEMPORARY LABOUR IN LONDON >
Latest Labouring Vacancies in London >
Labour Force Recruitment is all about "Getting the job done!"
One Labourer or 50, we can supply temporary manual labour in London to solve your problems at short notice. We are ideally placed for large volume temporary labour bookings. We can supply temporary labour for all types of situations where manual labour is required for immediate short term solutions or longer term requirements.
"Site Clearance - Deliveries - Materials Movement - Site Tidy - Events - Temporary Structures - Furnishings movement - Warehouse - Builders Clean "
Labour Force Recruitment operates a 24/7 service and is especially suited for "Early Morning" and "Night Work" when London is at its quietest and access to sites and premises is easier.
Our Customers are not only from the built environment. We supply Hotels, Colleges, Offices, Health Clubs, Shops and Retail Stores. As well as support manual labour at London Exhibitions and Events. Whenever there is a need for temporary manual labour in London we can be of assistance.
Labour Force Recruitment supply the following types of Temporary Labour in London:
We supply temporary Construction Manual Labour for the built environment in London.
We also successfully supply Non Construction - Industrial Labour to clients throughout London and the Greater London Areas.
General Manual Labourers - Welfare Labourers - Experienced Labourers - Trade Labourers - Facilities Labour - Cleaners - Warehouse workers - Pickers &. Packers - Loaders - Traffic Marshall's - Exhibition and Event Staff - Gate Personnel & Site Security
The temporary construction labour supplied will be CSCS accredited, have there own Personal Protective Equipment (PPE), and for management and safety, speak the English language.
We cover all aspects of the Built environment if you want a quote for labour not listed please contact us. Our minimum booking is one person for one day. Minimum working day is 8 hours.
We can provide you a the current charge rate for Temporary London Labour based on skill level, location, working hours and duration of work . We can also provide you with fixed term prices for new projects or tender applications.
Quote for TEMPORARY LABOUR IN LONDON >
Latest Labouring Vacancies in London >
Labour Force Recruitment supply Temporary Labour in the Centre of London, The City of London and throughout the Greater London Area. West London - North London - North West London - East London - South East And South West London areas.
"Whatever your needs, we are here to solve your Labour requirements. Please contact us if you require assistance or a quote for supply." Please Call Help Line: 0845 901 1461
Westminster - Victoria - St James - Mayfair - Soho - Bayswater - Marylebone - Holborn - Kings Cross - Notting Hill - Shoreditch - Finsbury - Barbican- Aldgate - Fenchurch - Covent Garden - Belgravia - Knightsbridge - Kensington - Fulham - Chelsea - Hammersmith - Shepherds Bush - Southwark - Waterloo - Battersea - Canary Wharf - Greenwich - Fitzrovia - Temple - Old Street - Farringdon - Paddington - Holland Park - City of London - Canary Wharf - Tower Hamlets - Isle of Dogs - Newham - Stratford - Holloway - Chiswick - Brentford - Putney - Richmond